20 May2012 - Fitting up
A couple of days hardening up and I started the process of fitting it out with the lights, brakes, interior etc. This is actually one of the best times in the build as it starts to come together quite quickly and you can see an end in sight!
The filler cap is a simple Aston cap from a Mini, and I created a mounting for it to sit over the normal Vitesse lockable filler cap, the resutl is a clean period look and safety and security of the fuel!
A point to note is that I sprayed what is called Overpaintable Stonechip to the bulkhead before I put the topcoat on, and this gives an orange peel type effect which is both protective and also covers up areas that were difficult to rub down. A bit of a cheat really, but I think it gives a factory-finish.
The interior was fitted as a trial to make sure everything was still okay, and I was really pleased that it looks great against the cream bodywork.
So here a few shots of the car nearly finished. I had a hole in the radiator so that has gone off to M&M Fern in Verwood to be re-cored. I wanted to avoid a modern radiator and electric fan, so I bit the bullet and got the original Vitesse one re-cored at a cost of £140+vat. It has got more fins per inch so I should get better cooling as well!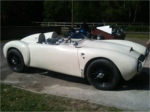 Looking nice, and I am just waiting on the back part of the seats now from a local trimmer, who is shortening the seat backs and making me up some headrests to match. I am aiming to get it on the road for the 1 June which is "Open-Top Sportscars" night down on Poole Quay.